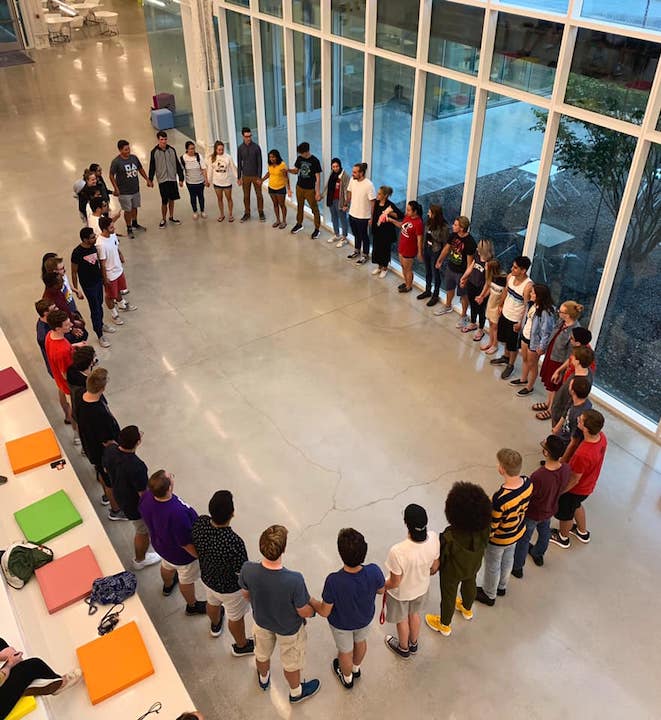 The human body has been designed to sustain itself, heal, and empathize through moments of face-to-face engagement. We are social beings—we need one another to thrive. But when we direct our attention to our screens instead of to each other, our bodies miss out on oxytocin–the bodies' feel good, "calm and connect" hormone, which helps us understand social cues and create trust. As society seems to become more isolated, with nearly half of Americans feeling lonely, the time is now to prioritize our connections.
The power of seeing and being seen has been scientifically proven to help us heal our bodies. Finding people who help us thrive through support, motivation, and encouragement, deepens those relationships, while building our resiliency.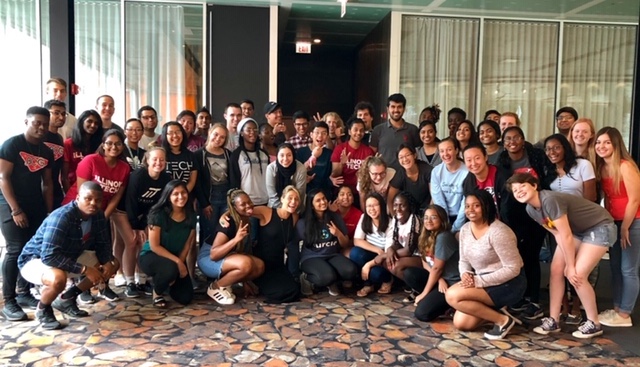 The Connection Cure workshops assist in revitalizing live, in-person communication and community, and in doing so, deepen relationships and help to facilitate courage and vulnerability in our interactions.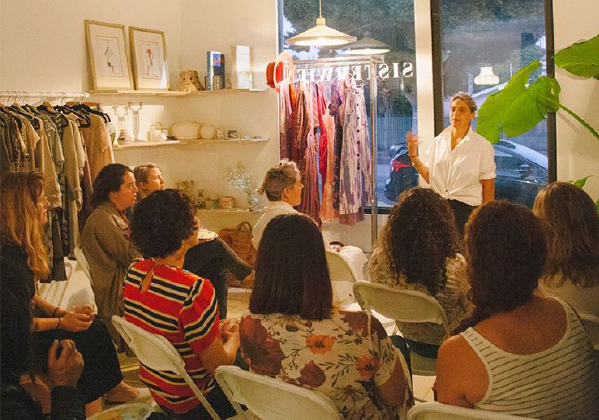 Connection Cure workshops are live events that range from 90 minutes to two hours, with some day long and weekend retreats. They are interactive experiences that combine storytelling and learning through experiential activities and exercises, and take place in different environments across the U.S. From small intimate living rooms to libraries, wellness spaces to schools, non-profits to large corporate events, community centers to religious centers, these workshops aim to create a movement of wellbeing through connection and conversation.
In the workshop, you can expect to:
De-stigmatize loneliness – learn how and why we feel lonely, how does loneliness affect our health and wellbeing, how has loneliness been a necessity for the survival of our species?
Discuss the science behind loneliness and connection—how does face-to-face connection change our bodies' hormones, lower our cortisol, and boost our immune system?
Practice how connection and community can help heal and strengthen our bodies
Create conversation around how to deepen relationships
Engage in practical, tactical, easy ways to connect
Create conversation around using these techniques to build community
Discover how connecting with others can help you connect with yourself and your purpose
"It's has been an incredible privilege to be a witness and participant of Connection Cure. When Lisa adventured to our tiny Wyoming mountain town, I don't think there was any expectation of what was to come. My privilege comes from baring witness to the workshop itself but also to how Lisa interacts with the world around her. Not only does she bare herself before a roomful of strangers, not know how they may or may not take her in, but everything that she teaches in that room, she is applying to her own real life experiences.
From that, we all get to witness profound and extraordinary healing occurring, not just in whatever space her workshop takes place in, but beyond the borders of those spaces as well.
The science behind what she shares, she also applies to her daily life; by doing that she leads by example and we are inspired to follow. Which, ultimately, helps to heal our own selves and the world… one micro-moment at a time."
—Oakley Boycott, Actress
Lander, Wyoming
"The Connection Cure workshop with Lisa was both intimate and expansive for me and the people who attended with me. It was powerful to see how we each became more open, honest and comfortable with each other and ourselves as we learned about connection and how it can heal.
I walked away feeling genuinely moved, and also excited to take the knowledge Lisa shared with us and adapt it into my daily life."
—Haleigh Hoff, Designer
Reno, Nevada
"Holistic Moms Network is a non-profit organization that has chapters throughout the US, bringing people together, in real life, who are interested in holistic living.
Lisa's workshop was an amazing reminder, providing solid information in a positive way, on the importance of real life connections.
[It] was cathartic and an amazing affirmation on why HMN and our chapter leaders do what we do. I am so thankful that I could hear Lisa's message and information. It has rejuvenated me to continue leading my own HMN chapter with more compassion and enthusiasm."
—Jennifer Oh, Director of Chapter Development
Volunteer Coordinator, and Support Leader, HMN
Host a Workshop
The Connection Cure Tour is an ongoing cross-country project that is constantly being updated and happening in real time. We are touring the U.S, hosting Connection Cure events & workshops along the way. Most of the destinations on the road come from your interest and offer to host, so we need your feedback. If you do not see your state as a stop on the tour, please reach out and inquire! Connection Cure stops can be added at any time!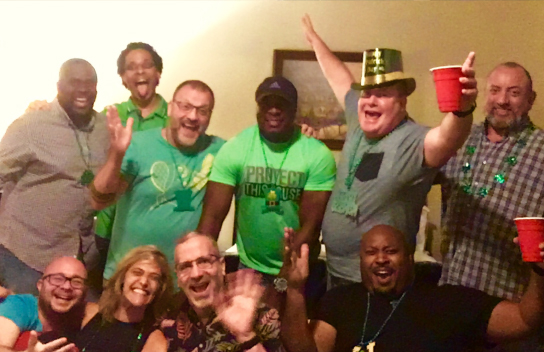 "Hosting The Connection Cure couldn't have been easier or more rewarding.
Lisa was a dream to communicate with before our evening of learning and community building and even more gracious as we invited her into our group of friends and acquaintances. Lisa is a gifted speaker and master at creating a safe and welcoming space in which to explore new ideas. Thanks to her powerful message and approachable style it was fun and easy to learn about and explore the role micro-moments can play in healing and strengthening us in our journeys through this progressively complex world.
Each and every member of our group left our workshop with Lisa buzzing with excitement
and armed with new perspectives on healing, loneliness, friendship, illness, engagement and purpose—all the while having laughed and loved through the night. To all the micro-moments to come!!! Thanks Lisa."
—Matthew Stucky, Photographer
Los Angeles, California
"New Vista serves youth and adults with intellectual and developmental disabilities (IDD) by providing supportive living homes and programs which empower our members to live life to the fullest! Initially, Lisa was invited to speak with our staff and address the roles of caretakers, the importance of engaging in self-care and the need to connect with other staff members. Our members visited with Lisa prior to the workshop, and ended up participating in the workshop. There was a magical force that moved through the room as Lisa interacted with our members and staff, to the point that it moved those of us in attendance to tears, and Lisa openly wept with us. There is genuine love and unadulterated joy in working with individuals with IDD, something that Lisa, in her enlightened sensitivity, immediately connected with. Our members instantly fell in love with her.
Lisa's workshop was inspirational and emotional, her message resonated with everyone, reminding us of the strength of our connections, and the power of unconditional love in our service to others. Lisa guided us through several exercises that truly brought us back to our core 'why'. We are grateful to Lisa for her willingness to share her light and love with us!"
—Juanita Bell, Lead Member Service Coordinator, New Vista
Las Vegas, Nevada
"Before I even met Lisa I had heard of her presence. One of my best friends had been coached by her for years and continued to encourage me to connect with this remarkable woman. When I sat with her for the first time the expectation was exceeded. Her presence, courage, and honesty blew me away and inspired me. I attended a Connection Cure workshop later that month and it also exceeded expectation. She commanded the room with grace and ease.
She offered her story and insight into connection and loneliness with clarity and passion. We all floated away from the workshop, inspired to live deeper, braver, and more connected lives.
Lisa is an extraordinary woman with an important vision and this world is better off with her in it. As Lisa lives into her fullest expression and bravely travels the country, each city and person she connects with gains a true gift."
—Sarah Claire Smith, Registered Mental Health Therapist Intern, Life Coach
West Palm, Florida
"We've had many workshops at the Center for Social Change, but none like Lisa's Connection Cure. Lisa has a realness about her that inspires questions we may have been afraid to ask ourselves. She fearlessly dives into topic's like loneliness, something we can all relate to but are often afraid to admit. Her desire and passion for connection speaks to us, tearing down our own walls and revealing our true craving for unification.
She has a unique ability to speak to just about anyone and meet them where they are with an open mind and heart.
So much appreciation for the work you do Lisa, and so very needed at this time. Thank you!"
—Christina Pearce, Wellness Director,
Center for Social Change
Miami, Florida
"Lisa Daron truly embraces and exemplifies her Connection Cure initiative and the power of living in gratitude! Her authenticity and warm approach are infectious and infuses everyone she meets with the values and benefits of positive psychology. As a consultant for nonprofits and social entrepreneurs,
I was impressed with the story of her journey and inspired by her healing techniques and the grace she delivered to a diversity of participants.
She is an asset to any organization or group looking to take themselves to the next level!"
—Hopi Noel Morton, HOPIWORKS, Inc.
The Eyes On Your Mission Project
Miami, Florida

For more information and to learn about bringing the Connection Cure workshop to your intimate space, non-profit, corporate environment, event, summit or retreat, Connect with us today!